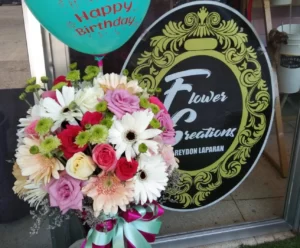 We provide fresh and healthy flowers for your space
Welcome to Flower Creations, where we believe in the enchanting power of flowers to captivate hearts, uplift spirits, and weave moments of joy into the tapestry of everyday life. As a premier flower shop in Cagayan de Oro, we are dedicated to providing our customers with exquisite floral arrangements that eloquently convey emotions without uttering a single word.
At Flower Creations, we understand that each occasion calls for its own unique expression. Whether you are celebrating a birthday, anniversary, wedding, or simply want to brighten someone's day, our team of talented florists will craft stunning bouquets and arrangements that perfectly convey your sentiments and help you deliver them to your loved ones.
As your go-to flower shop in Cagayan de Oro, customer satisfaction is at the heart of everything we do. We pride ourselves on delivering exceptional service from start to finish. Our friendly staff is always ready to assist you in selecting the perfect arrangement or offering expert advice on flower care.
Experience the enchantment today by visiting our shop or browsing our online collection. Let us help you create unforgettable moments with the timeless allure of flowers.
Owned and Managed by Reydon Laparan.
Our journey began with a passion for blossoms, a deep appreciation for nature's gifts, and a commitment to spreading happiness through floral artistry. With years of experience and an unwavering dedication to craftsmanship, we have become a trusted destination for all things floral in our community.